The first phase of the global tour, the North American leg, began with a two-day performance in Belmont's UBS Arena. After that, on April 29, the rapper carried his tour to Newark's Prudential Center, followed by a three-day performance at Rosemont's Allstate Arena. Before concluding the North American leg with back-to-back performances in Oakland, he performed three more shows in Inglewood.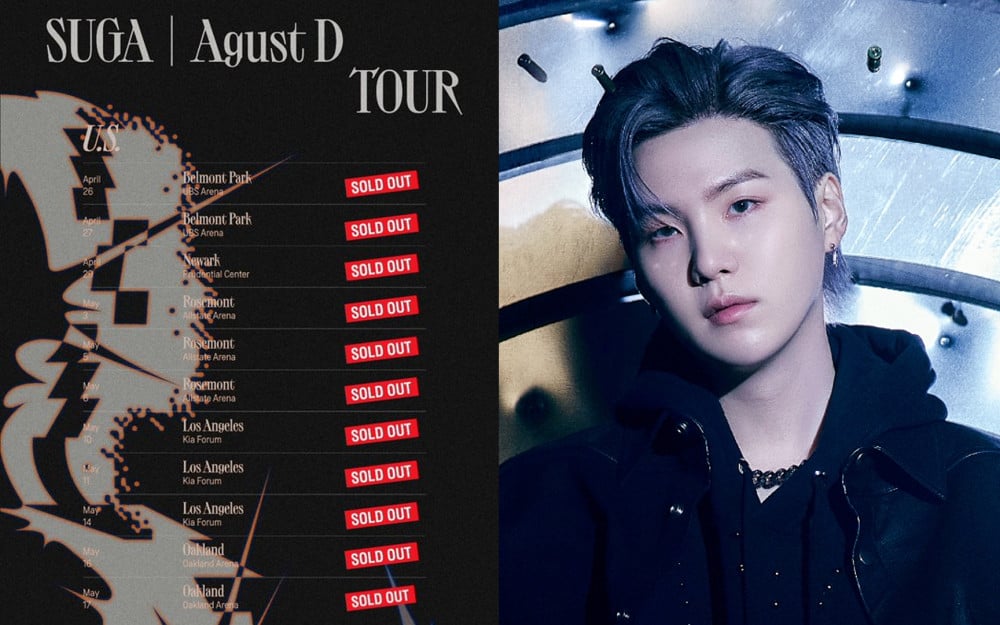 The power and popularity of the BTS member were once again demonstrated by the early sellout of every performance in North America. Suga interacted with 155,000 audience members throughout 11 shows spread across 5 cities.
Going back and forth between Agust D and Suga, Suga displayed his vibrant charms while focusing on songs from his solo album "D-DAY" and his previously released mix tapes "Agust D" and "D-2."
Through this performance, which blends the VCR and stage composition that expresses the progress of Suga and Agust D, the direction that melts the two "egos," and the traces of endless problems as a "musician," Suga is particularly solidifying his identity as an artist.
The crowd enthusiastically sang the set list while coloring the venue purple as though in reaction, closing the stage with Suga and igniting the scene.
At his shows, the rapper also welcomed special guests including Halsey and American singer-actor MAX. He performed flawless harmony when singing "Burn It" with MAX on May 11 and "SUGA's Interlude" with Halsey on May 14.
Before wrapping up his world tour in Seoul on June 24 and 25, Suga will perform in Jakarta, Bangkok, and Singapore.