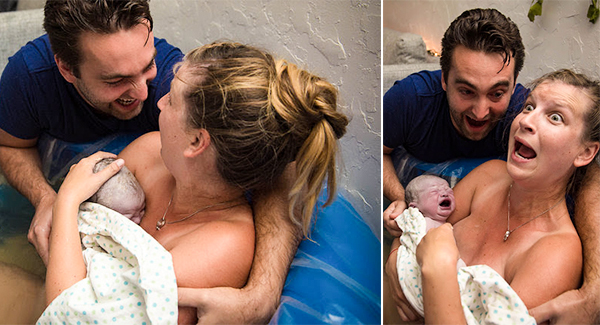 One couple got the shock of a lifetime when they learned their new baby's sex wasn't what they expected.
A photographer captured the shock on a mom's face when she met her newborn son – after thinking she was giving birth to a baby girl.
Kim Guiley, from California, gasped with delight when she met baby Theo for the first time. She already has a daughter but said she'd always wanted a boy too.
The image is going viral after she posted it to her Instagram page, and the Guiley family spoke to Inside Edition about the fun photo.
'Can't stop laughing at this awesome capture by our birth photographer @susannahgill_photostorytelling,' Ms Guiley posted on her Instagram page.
'After a lifetime of dreaming about one of each, but months of feeling so strongly that we were having another girl, this is the moment we discovered Theo's sex!!,' she wrote.
The accompanying photo shows Kim Guiley and her partner, Travis, open-mouthed and eyes wide.